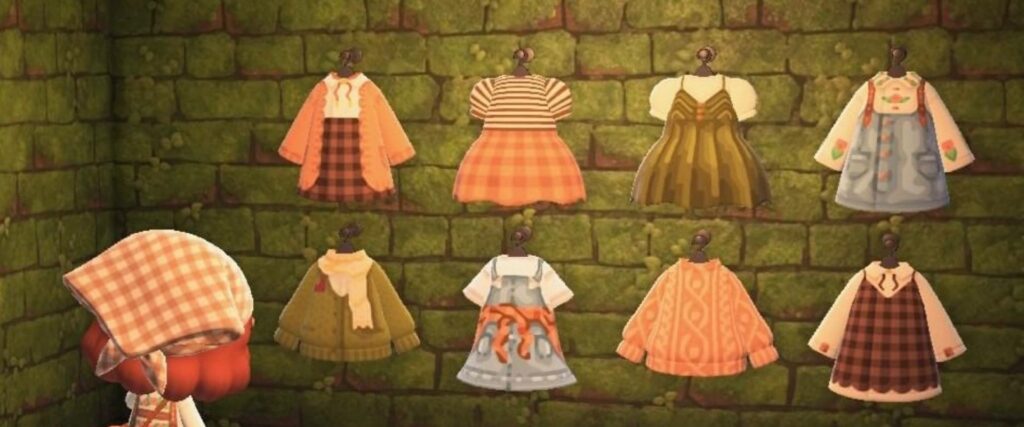 You might be in debt to a tanuki, you might be about to pass out from a scorpion sting, and maybe your house looks like an episode of Hoarders, but at least with these best Animal Crossing: New Horizons design codes you'll look fabulous doing it. Animal Crossing: New Horizons design codes are an easy way to import the impressive creativity of others into your game, and enjoy outfits inspired by the months of October and November.
Simple Fall Sweaters, Dresses, and Cardigans
Turkey aprons
MA-8374-4839-0753
Funny Cartoon Turkey Butt Sweaters
MA-8374-4839-0753
Fall Sweaters and Hats
MA-2576-0079-0495
Sleeves say Gobble!! Happy Turkey month
Elegant Cottagecore Autumn Outfits
Simple Mushroom Aesthetic Dress
Cute Seasonal Fall Outfits Inspired By Acorns, Mushrooms, and Pumpkins
Cozy Cottagecore Mushroom Design
Isabelle's Cardigan Code
dark academia aesthetic outfits
I made some dark academia aesthetic outfits since I couldn't find many
Autumn Apron Dress
Autumn Knitted Pullover Sweater
Cranberry Red Coat
Long Sleeve Autumn Leaves Prairie Dress
New retro-inspired Autumn outfits. You are welcome.
Snail Mail
Cozy Fall Collection Assortment
Tags: fall collection 2020 leather wool light wash denim beige black camel scarf necklace belt hoodie sweater outfit coat dress overcoat pleated skirt zipper button-up crop top tie cable knit vest warm fluffy cozy comfy autumn trendy
Cozy Sweater Designs
Scarecrow Straw Dress Up Costume
Halloween costumes collaboration collection jester scarecrow ursula sea witch cat mom queen of hearts victorian ghost ringmaster circus oogie boogie nightmare before Christmas patches pumpkins spooks in cahoots
Autumn Apple Dress
Pumpkin Dresses
Suburban Sweater
Granny Knitted Cardigans
Dainty Dresses and Sweaters
Mushroom Dress with Acorns