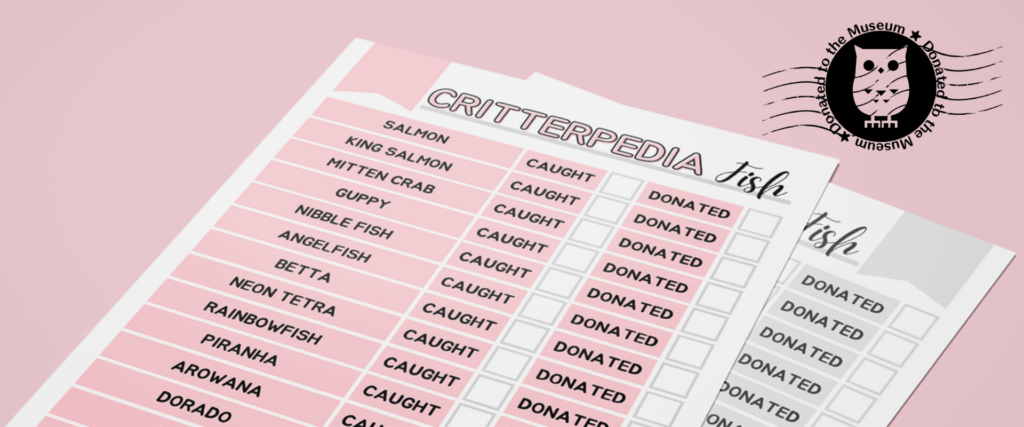 Organize your Critterpedia on paper with this free Animal Crossing New Horizons download. Available to print or use with digital planner. Includes all 80 fish, listed in Critterpedia order!
It includes checkboxes to track which fish you have caught as well which have been donated to the Museum. This PDF file is ready to print in full color as well as black-and-white on 8.5 x 11 inch paper. Compatible with iPads or Android tablets. Use it with GoodNotes, Notability or any other PDF reader that allows you to edit.
Her Busy Day's planners are all the standard US Letter size of 8.5 by 11 inches. Print this file with borderless printing, otherwise, there will be a white line on the edges of the colored border. To print the 8.5×11″ pages in a different size, please refer to the handy-dandy print "scale" guide. To download the files, click the download link. You will be redirected to a file-sharing site called Mega.
This donation tracker was designed using Canva, a graphic design platform. Canva makes graphic design super simple! You can make planner printables, like I do, for free, by using the world's easiest drag-and-drop design tool.
All video game data is collected from the fan-made ACNH Data Spreadsheet. Animal Crossing and Nintendo Switch are trademarks of Nintendo.
Make sure you check out my other Animal Crossing planners too! If you have any questions or suggestions, please feel free to leave a comment.