Learn the details for the free update for the Animal Crossing New Horizons game. The update was released a day early on November 4, 2021. If you have played other Animal Crossing games, you might recognize a few familiar faces as they make their first appearances into New Horizons.
Brewster
Something is coming to the museum! Brewster, a quiet pigeon with a passion for coffee, makes his long-awaited introduction to New Horizons. Brewster runs The Roost, a cafe tucked away on the second floor of the museum. He will serve coffee for 200 Bells a cup. Multiple players can also visit at the same time, so why not savor a relaxing cup of joe together with your friends? (You will need a Nintendo Switch Online membership to do this!)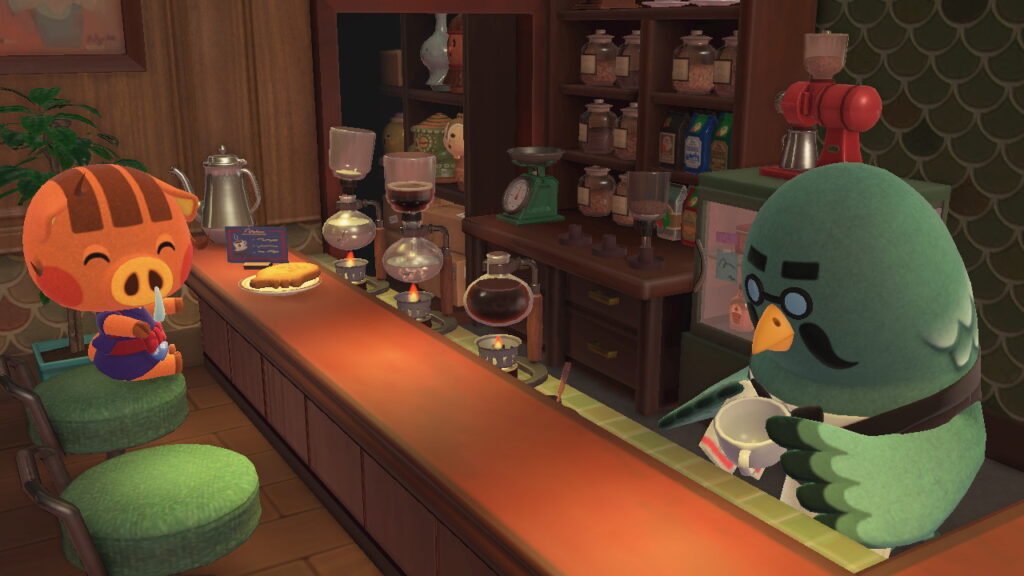 As you kick back and relax while Brewster serves you up a cup of his finest coffee, you might even run into some island residents. Isabelle might stop in for a cup of coffee herself!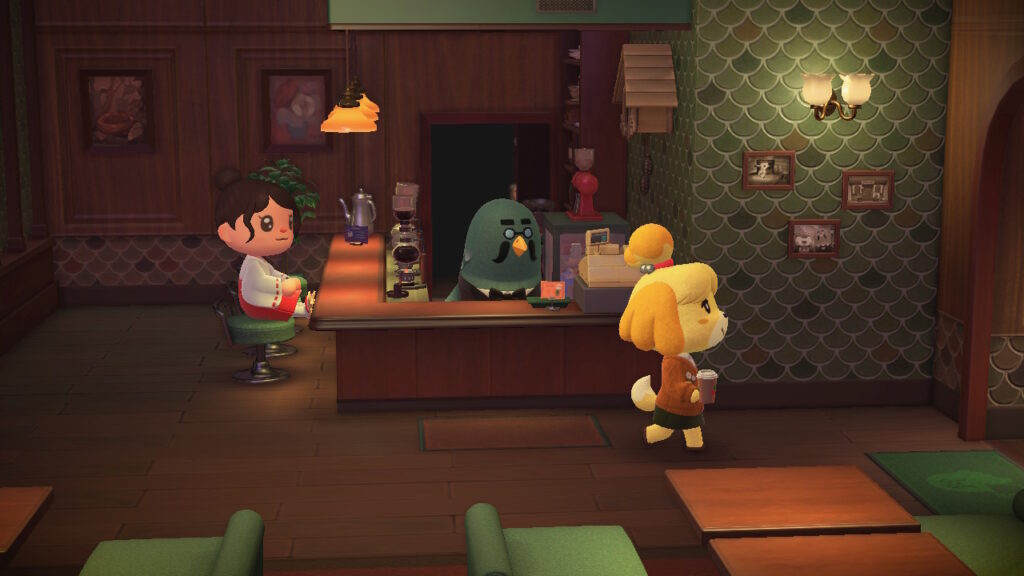 This last bit requires purchasing the Animal Crossing series amiibo figures and amiibo cards, but if you have these, you can invite characters of your choosing in The Roost! Some of the characters you invite may bring along company.
Kapp'n
All eyes on deck! Who's that lounging around on your island's pier? Kapp'n is another character making his first introduction in New Horizons during the free November update. This kappa character will ferry you to a destination via his boat. The amphibious yōkai will charge you 1,000 Nook Miles for a round-trip fare.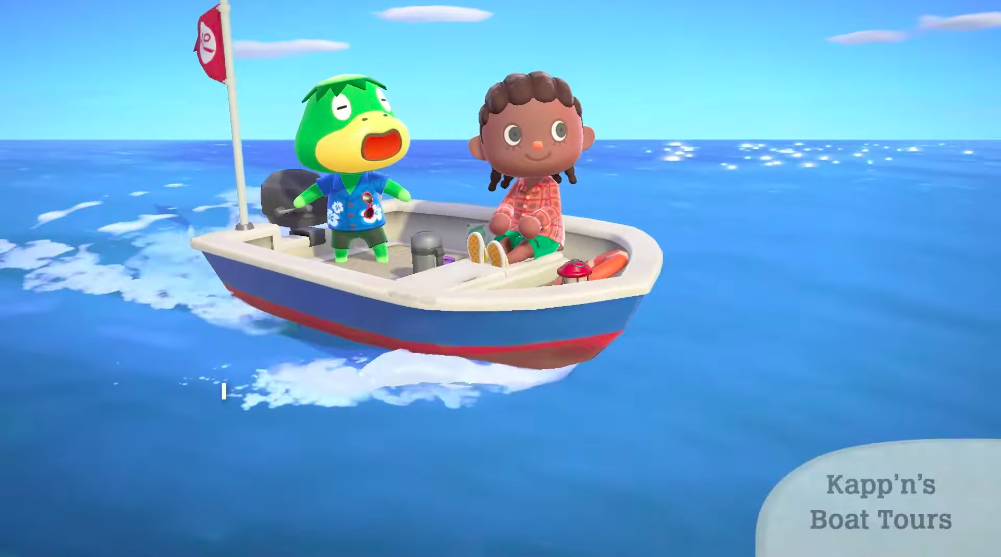 Kapp'n will take you to a mysterious island. These islands might have new plants, a different time of day, or a different season altogether. No time travel required!
Harv's Island
Harv's island is getting a makeover! With the help of Harriet, a friend of Harv who is making her own first introduction into New Horizons, Harv's island will transform into a busy shopping district. First, you will need to bring plenty of bells to donate to the gyroids on the island. Gyroids like Lloid will ask for donations to set up shops such as Sahara's rug and wallpaper shoppe, Kix's sneaker and handbag stand, Katrina's fortune-telling caravan, and other characters from the visitor rotation.
Reese and Cyrus return to Harv's Island to help customize ready-made furniture that you can't customize on your own, like the lighthouse available from the Nook Miles Redemption.
Tortimer makes his first introduction into New Horizons on Harv's Island as well. An elderly tortoise character, Tortimer will offer to store items or take items out of your storage while you visit the island.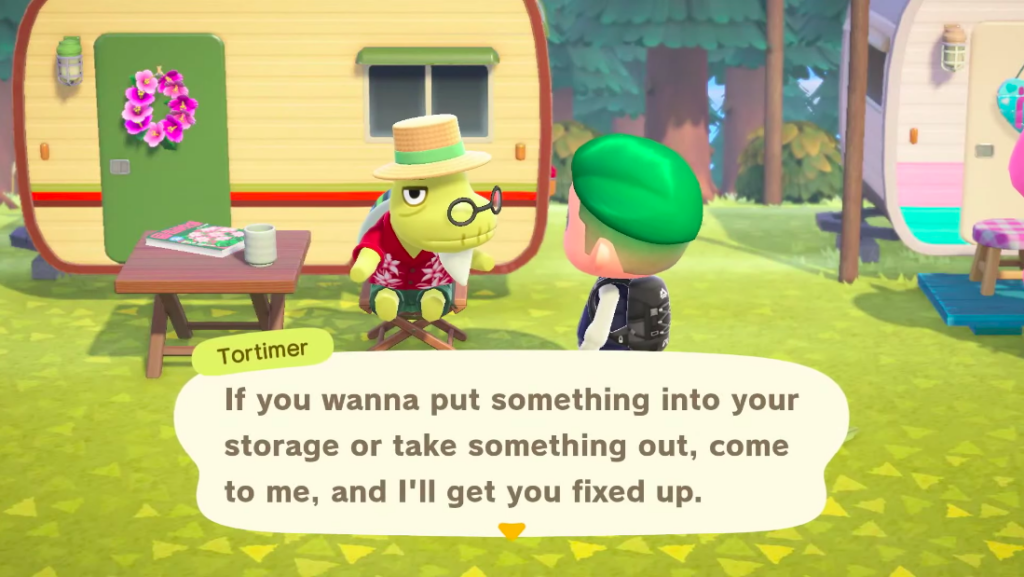 Harriet will offer to give you a new hairstyle. Learn these new hairstyles through Harriet or by using your Nook Miles, which we will explain more below.
Resident Services
A box with a tape deck inside of it is just outside Resident Services. Upon interacting with the tape deck, you will have the option to participate in a group stretching activity with island residents. Join in by using either button controls or motion controls with a joy-con controller.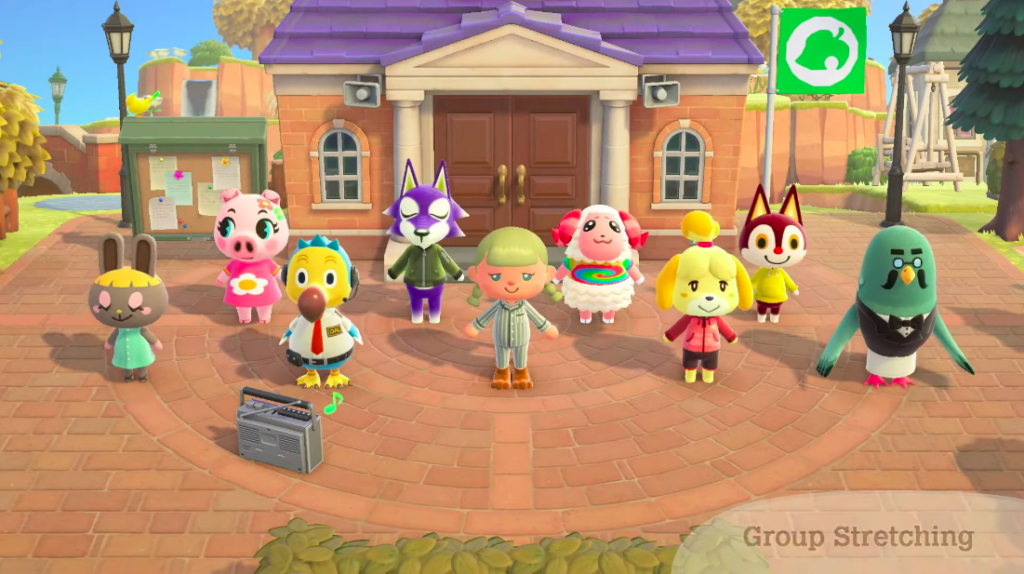 You can set up island ordinances through Isabelle inside Resident Services. These are gamerules that you can change. Take the early bird ordinance for example: this will make all island residents wake up earlier in the morning! From the Animal Crossing: New Horizons Direct 10.15.2021 YouTube video, Isabelle offers four total ordinances: Beautiful Island, Early Bird, Night Owl, and Bell Boom.
Tom Nook will also offer new opportunities. Check in at the construction consultation counter inside Resident Services to learn more about exterior options for your New Horizons house.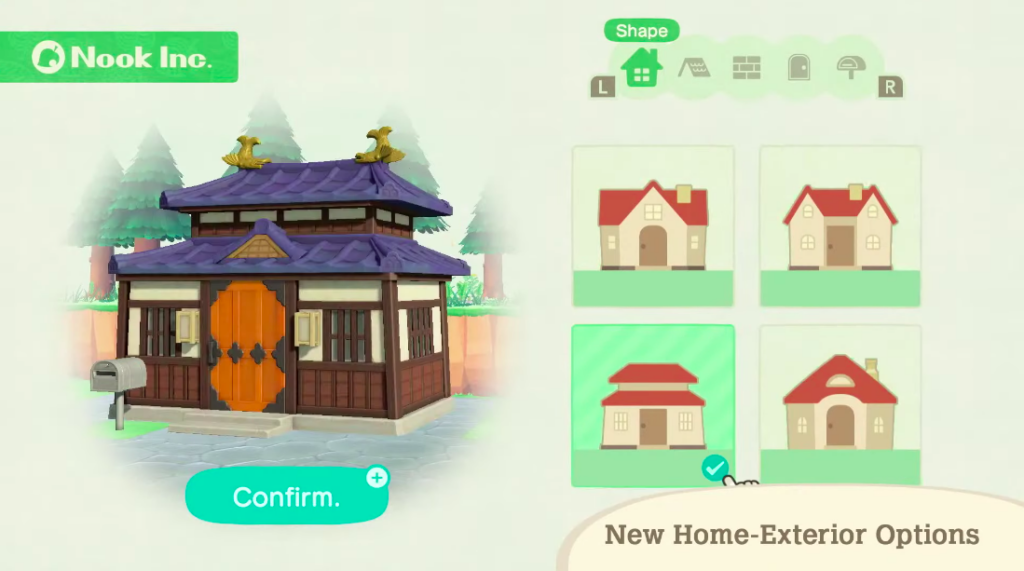 You can also expand your storage. Save up your bells, as there are three more expansion options. Previously, you could store up to 2,400 items, but with the new max storage capacity, you can store up to 5,000 items!
Nook Miles
Newly added redeemable items will be available for Nook Miles. For example, the new Be a Chef! DIY Recipes+ allows you to cook for the price of 2,000 Nook Miles. Combine ingredients like tomatoes, wheat, sugar cane, potatoes carrots, and more! Likewise, this means new plants are being added. You can cook by accessing a kitchen piece of furniture, similar to how you access crafting tables for other DIY recipes. Eat these dishes like fruit to dig up whole trees or break stones.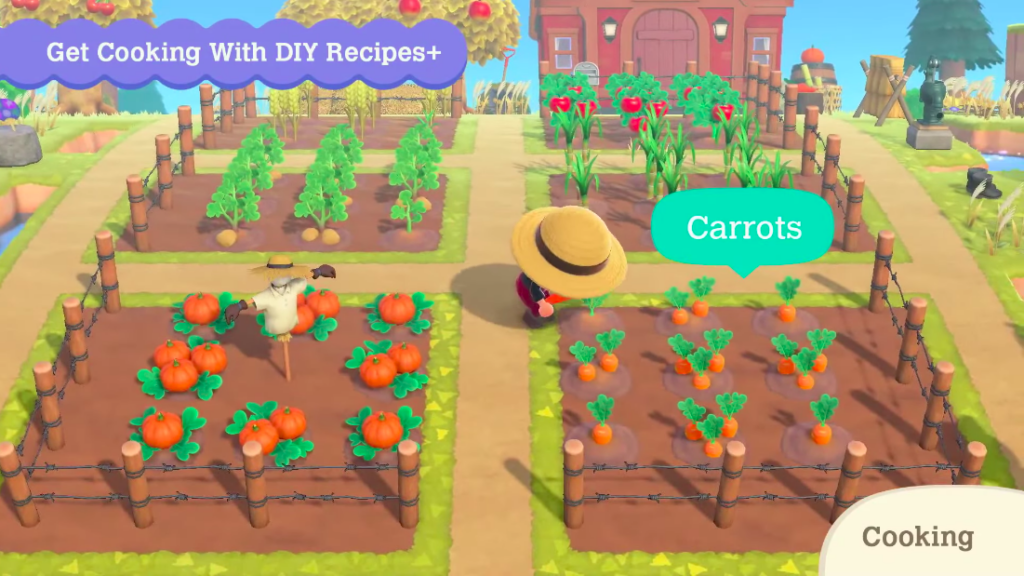 With the Pro Decorating License, add lighting and ceiling decor to each room. Accent walls, like using a different wallpaper for one side of the room, will also be available to give a single wall a different pattern. With these, more design options will be at your disposal.
The maximum number of bridges and inclines you can place on your island will increase to 10 each. There are nine new fence types, including park fencing block fencing, corrugated iron fencing, and even the picket fencing from the original game preview! Some fencing can be customized too.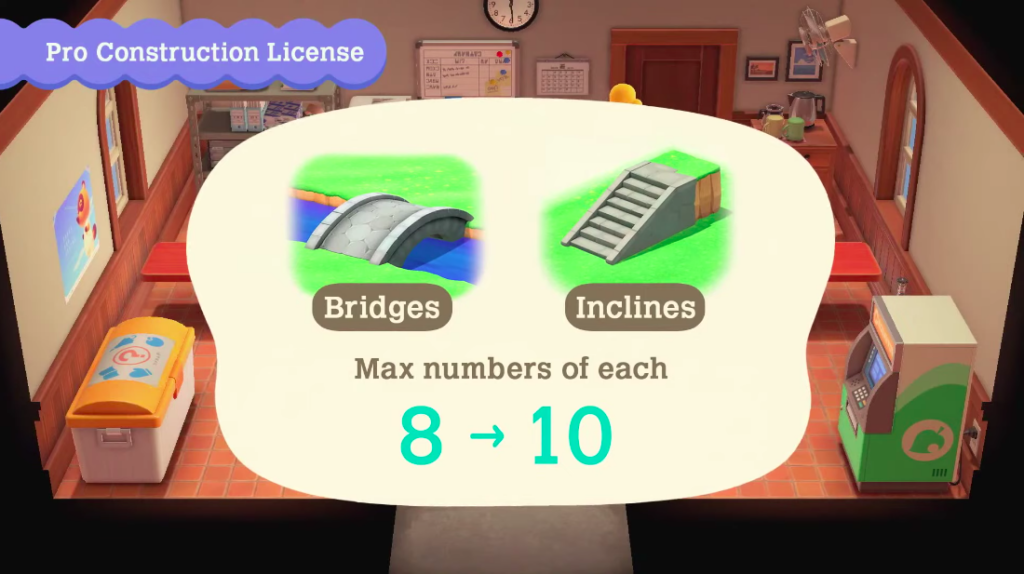 The camera app on your Nook Phone is getting updated! When changing to a handheld camera mode, the view aligns with your eye leve. If you change to a tripod camera mode, you can also be in the picture.
Patterns that were previously used for customizing items can now be worn or used as flooring and wallpaper like custom designs.
As briefly mentioned above, you can get in style with different hairstyles. Version 2.0 is adding 11 new hairstyles, including the ones that Harriet will teach you!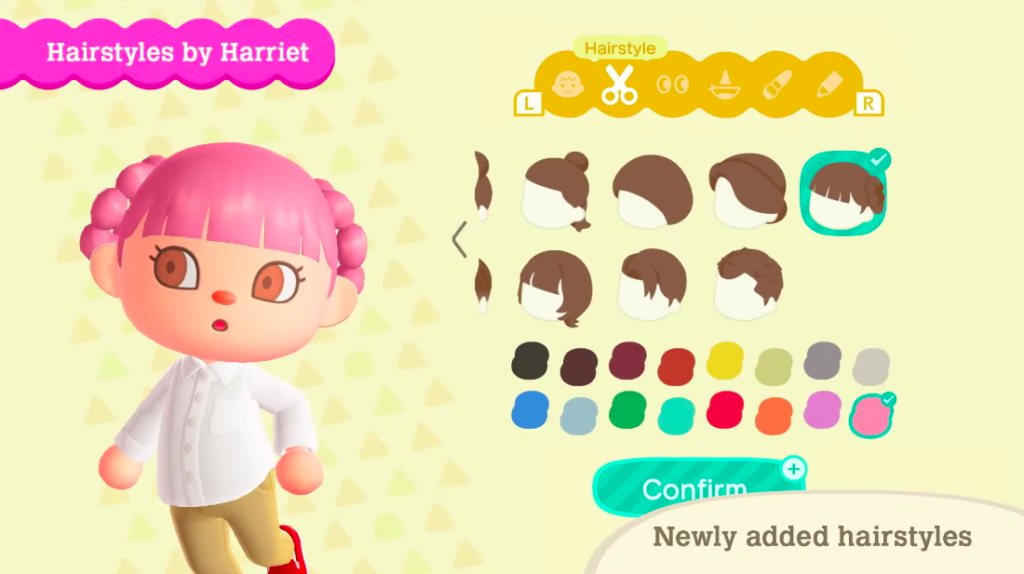 11 new reactions, like waving goodbye, stretching, and bouncing to music are being added alongside a new Nook Phone app called Island Life 101. This new Nook Phone app provides tips on enjoying your island.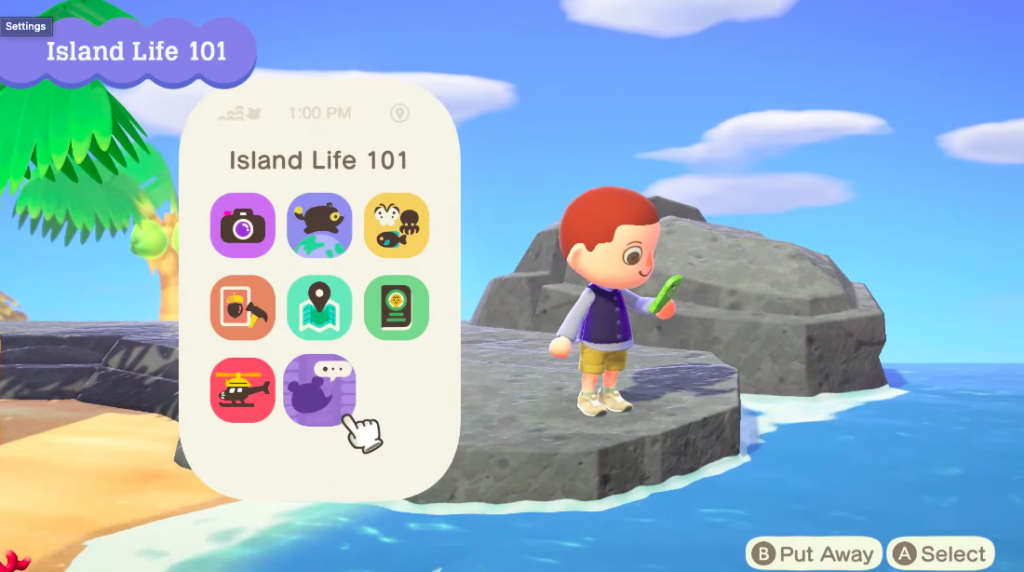 More furniture will be added to the Nook Stop. By redeeming your Nook Miles, you can acquire new furniture items like an ABD. A storage shed can also be redeemed. This can be accessed on your island after placing it and interacting with it to store items from your pockets.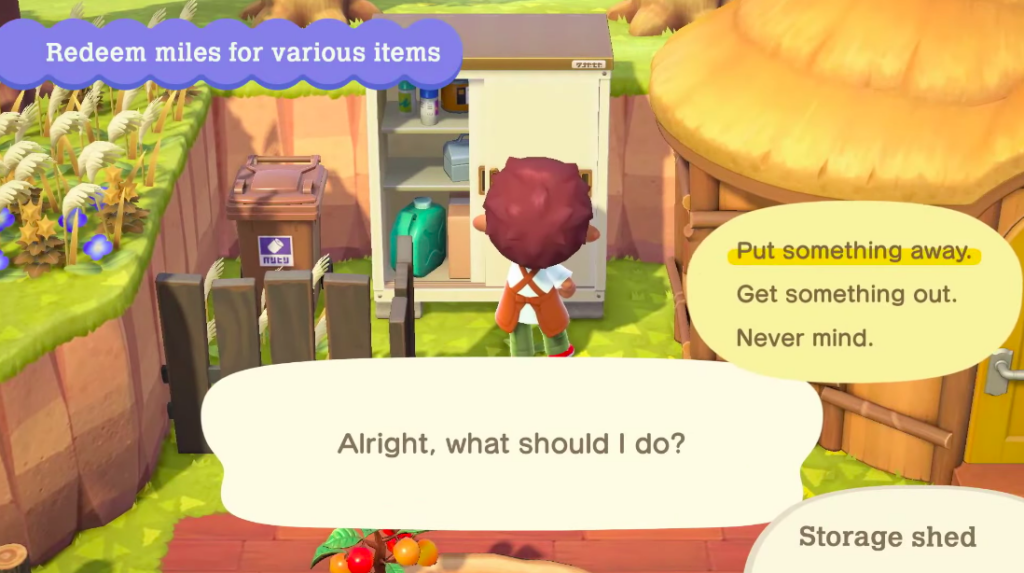 The storage shed will allow you to continue decorating or harvesting items without running all the way back to your house to store your inventory. Items placed inside the storage shed go directly into your home storage. You can also take items out of your home storage through accessing the storage shed!
K.K. Slider
The popular singer-songwriter that visits your island every Saturday is released 12 new hits. A new furniture item, a music box, is also being added to the game. Like the tape deck, portable record player, and other items that currently exist in the game, the music box can be used to register K.K. Slider songs and play them wherever you place it down!
Gyroids
Can you dig it? Fossils are not the only things you can dig up now. Gyroid fragments can be dug up in the new free update. These can be planted on your island and watered to produce a full gyroid figurine overnight.
Gyroids will make interesting sounds. Place them by themselves to hear interesting tweets and clicking, or play some music and watch them dance and harmonize!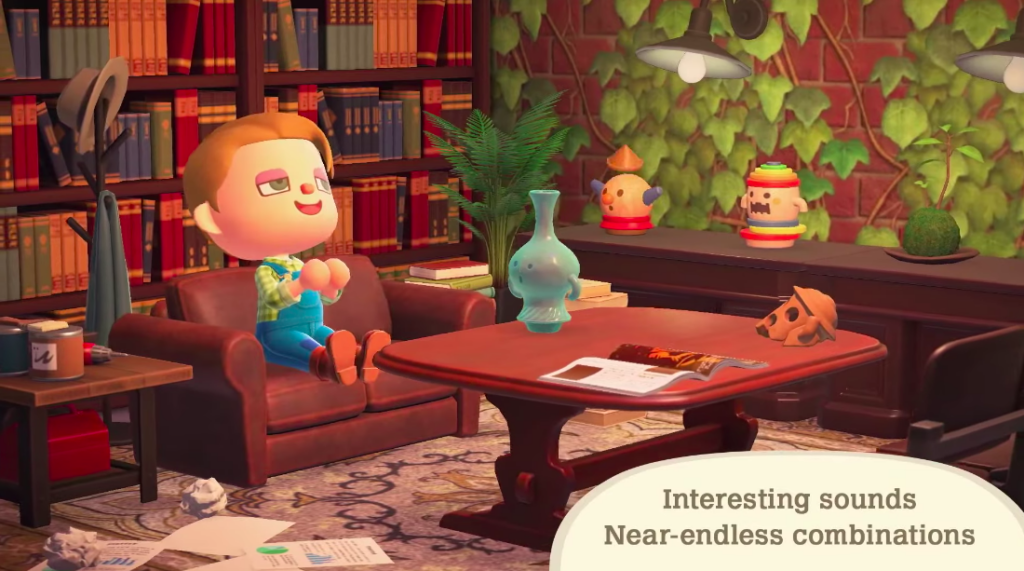 Lastly, gyroids can be customized using customization kits.
Nook's Cranny
Timmy and Tommy's shop is getting new furniture items like ceiling decor and machines in addition to new DIY recipes.
A simple cookbook filled with recipes using basic ingredients can be purchased inside the cabinet for 4,980 Bells.
There's a new type of tool you can craft! Permanently place ladders on cliffs with the set-up kit. Purchase the new ladder DIY recipe inside the cabinet in Nook's Cranny for 2,000 Bells.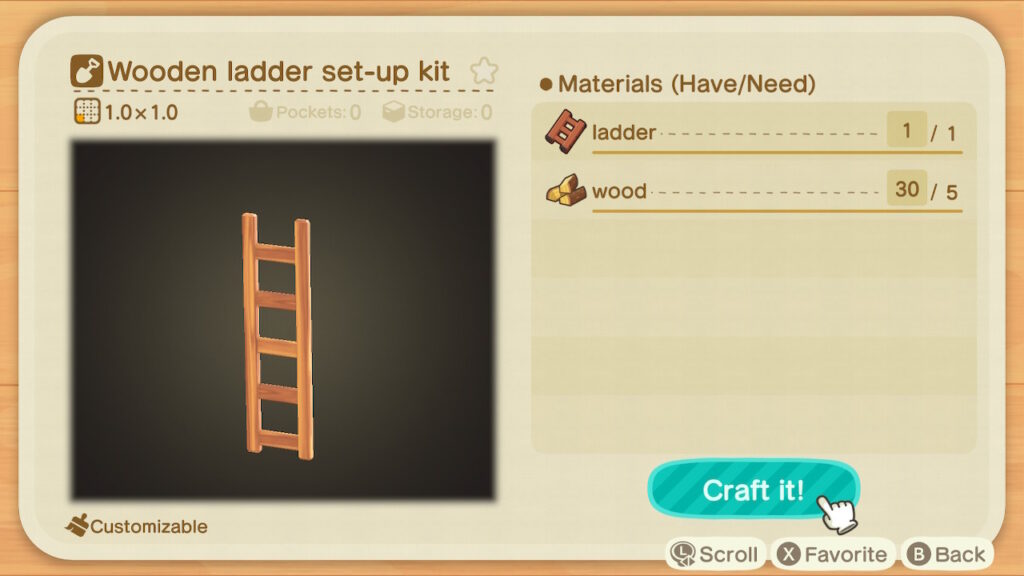 Navigate Tight Spaces
Previously, if you placed items too close together, not necessarily right next to each to other but 0.5 squares in between each other, you would not be able to walk in between those items. Now, with the free update in November, you can slip in through these tight spaces!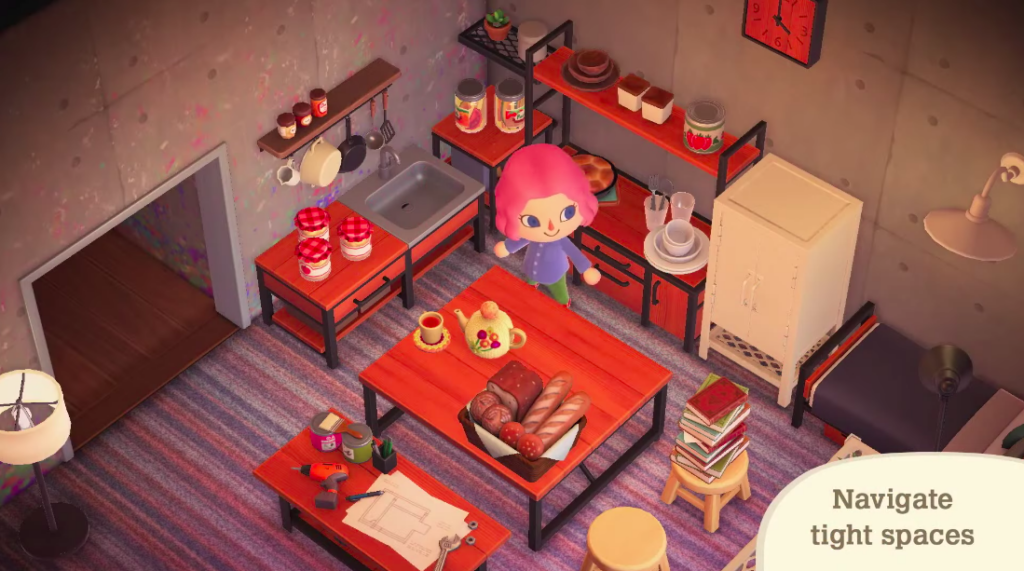 Conclusion
Sadly, this will be the last major free content update for animal crossing new horizons. That being said, we can only hope there will be other, smaller free content updates in the future. Thank you, Nintendo, for continuing to update this game! Comment below, what are you most looking forward to in the 2.0 Version?